Administration Volunteer:
Be the first point of contact at the National Headquarters as you welcome guests and provide administrative support across departments.
Commitment: 4 hours per fortnight
Location: Port Moresby Headquarters
Is this you?
Are you interested in customer service volunteer work?
Do you have a warm smile and friendly personality?
Are you over the age of 18 and able to work in a professional setting?
Can you easily work solo but also part of a team?
About the role
As a First Impressions Volunteer, you will be the first point of contact for our Central Hub. You will welcome guests and greet people who visit St John Ambulance. You will offer administrative support across all departments at the Hub. This role is suitable for those with experience in the desirable competencies as well as those wishing to gain administrative experience.
What your role involves
Receiving visitors at the front desk by greeting, welcoming, directing and announcing them appropriately
Maintain office security by following safety procedures and controlling access via the reception desk (monitor visitor book and badges)
Receive, sort and distribute daily mail/deliveries
Handling company inquiries
Perform other clerical receptionist duties
Other Duties as directed
Skills and Qualifications
Customer focused
Professional attitude and appearance
 Positive attitude
Great communication skills
Computer skills
Good English and basic mathematics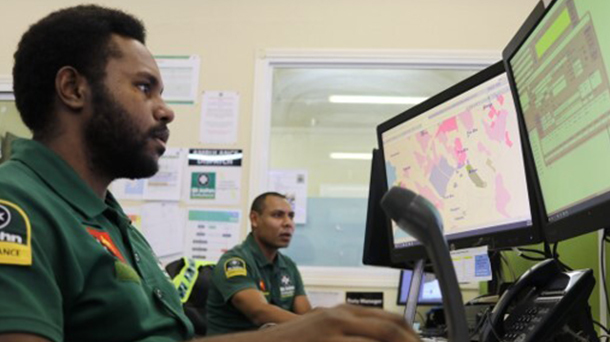 Participate with fellow volunteers and provide first aid and medical at community and public events with St John Event Health Services in Port Moresby.
Commitment: 60 hours annually
Location: Join your local division at 3 Mile
Is this you?
Are you interested in clinical volunteer work?
Are you over the age of 18 and able to work in a professional workplace?
Are you friendly with a strong desire to help others?
Can you easily work solo and also a part of a team?
Are you physically able to perform CPR?
Taking the step to volunteer with our Event Health Services team opens up an array of opportunities for different experiences and interaction with St John and your community. As a volunteer with us, you will attend a wide variety of community events and perform an essential role in safeguarding the health of the public.
We have roles for
First aiders
Nurses
Doctors
As a volunteer, you are given the training, support and confidence to feel ready in your role to help the local community.
What your role involves
Ensure first aid skills are maintained and kept up to date
Ensure that equipment and vehicles are maintained in appropriate operational condition
Respect and value the diversity of the workforce
Represent St John Ambulance as a professional and positive organization at all times
Work effectively with other team members and other service personnel at all times
Provide professional and appropriate first aid care as required in accordance with St John policies and guidelines
Maintain the safety and well-being of self and others within the workplace
Assist in any other area as requested by your event health service manager
Skills and Qualifications
 Provide First Aid course completed with St John (provided at no cost)
 Positive attitude
Great communication and presentation skills
Completed Year 12 English and maths
Initiative and enthusiasm
Ability to work in a team
The Application Process
Step 1 – Apply to become a volunteer – Click APPLY at the bottom of this page
 Step 2 – Volunteer Member Services will call to book you into an information session
Step 3 – You attend the Information Session – this session includes a group interview and assessment activity
Step 4 – Application process is completed
If your application is successful you will be offered a volunteer position with Event Health Services and will be contacted for next steps.
If your application is unsuccessful Volunteer Member Services may be able to offer you an alternative volunteer role.
For more detailed information about the application process please click here.